[Home]
[Russian Translation]
[3-way interpreted phone calls]
[Professional Resume]
[Russian Links/Photos]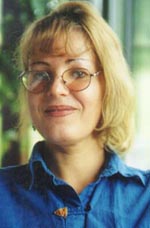 How about a Game of Chess?
Some Comments from Russian Native, Natalya Mann:
In Russia you can hear the question, "How about a game of chess?" about as often as you can hear, "How about a cup of tea?" You can hardly meet a Russian person who has no idea how to play chess. Of course not all Russians play as fantastic as Alyokhin, Karpov, or Kasparov but they appreciate this game a lot. In summer you're sure to see some special chess tables in the parks in many cities. People gather together to try their skills on the chess battlefield. You'll definately spot some chess groups even on the beach on a hot day. Chess fans are waiting impatiently to take their turn at the board playing against the previous winner. Not many women can be seen among the players but I was always there!
I am very thankful to my father who brought home a chess set one day and showed me the magic of putting the pieces to life. Since then I have been addicted to chess. But there were not only roses on the way to understanding the strategy of the game and mastering the theory. As many kids I preferred practice to theory and asked my father to play with me.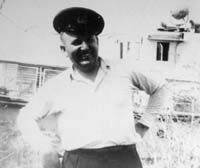 He made me learn theory first. I had to drill a lot of beginnings, middles and ends of the game and then he agreed to play with me. I made my best efforts to win but never could. The matter is that my father was a military man and a professional chess player. He used to participate in many competitions which were very popular among military officers and had many awards and diplomas for winning. I was dreaming one day to have my own chess awards. But I had to wait for some years. My first diploma appeared when I was in the 9th grade of high school. Having become a chess champion on my school I was sent to compete with the students of our district who represented about 10-15 schools. The best players were invited to the final competiion where the best chess players from all the schools of the city of Volgograd met. As you can guess I brought home my first diploma that day. I was very proud and my father said it was a good start but he still didn't take me seriously and he was right because I could not beat him.
As I got older I became more sophisticated. My mastering theory didn't work with my father because he was a Napoleon at the chess table. So I decided to use a different approach. First I need to mention that chess was not the only hobby of my dad. He was also fond of hunting and playing card games. So on weekends from time to time he had a card party at our place. Some friends came over and had dinner with cognak or vodka. Then they played for hours drinking some more alcohol. When our guests left my father looked tired and of course drunk enough to loose his concentration so I was there waiting for him with a chess board. He never refused me on such days. Nevertheless I can boast of only two or three victories of such sort. He was really and expert!
As for me I gained some more experience later and got more victories and more chess awards. When I worked at the middle and high school after graduating from the University I organized a chess club for my students. I wanted to take them into the magic world of chess with me and pique their interest in the game. Later their own victories were also the best reward for me.
Now my daughter has started to explore the magic world of chess. She is always upset after playing with me. She just can't understand why she fails. Anyway she reminds me of myself...
I recollect some more curious moments with chess involved. As a rule, Russian men (as probably the majority of men atound the world) don't like to be beaten in chess by a woman. I appeared to be in several situations of such kind which I remember quite vividly even after many years. Once there was a party at my girl-friend's house who recently got married to a man from the Caucasus. He was bright but hot tempered and patriarchally oriented, considering women to have been created from the rib of a man. After dinner followed dancing and singing. Then the men decided to play some chess games while the women were gossiped. The host (our Caucasian man) won several games in a row and looked very proud waiting for the next "victim". One man (my former classmate) offered for him to play a game with me but the proud winner declared that he considered it not serious to play with a woman. After hearing I was a little bit hurt but at the same time excited so I came to him and asked him to play a game with me. Being a gentleman he couldn't refuse a woman. So we started and after a while he got mated. He seemed to be very surprised and explained, "I didn't think hard, let's play again!" We did and again I won. We played three games that evening and all three times he failed. After that time he has never again played chess with me.
Russian School Chess Club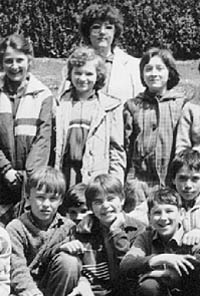 After graduating from the University I worked six years in school teaching English and German from the 5th to the 11th grades. It was a very interesting period of my life. I gained my teaching experience and grew in a personal way. It was the time when I organized a chess club at school but there was a little story behind it. Once a sport competition between school teachers took place. Each school of the town presented a team which had to compete with others in different activities including running, swimming, mountain climbing, tent arranging, fire making, cooking, and others. Among the activities there also were table tennis, checkers, and chess. It was my first year at school as a teacher and no one knew my love for chess. When at the teachers' meeting the team for the competition was selected there was only one weak spot in the team because one man was listed both in checkers and chess competition. I offered my help with chess but nobody was impressed saying that there were no other women playing chess from schools and it would be difficult for me to compete with men. I replied that I didn't mind this and, in the end, they chose me. But they seemed not to expect any surprises.
The day of chess competition came and I was among other men ready to measure themselves against a rival. As in other sports each pulled out the number of the first competitor and six games were held simultaneously. After that all the winners had to compete in one group and those who lost played against each other in another group. Eventually I found myself in the finals competing for the first five places. After several more hours of battle I finished in second place having lost only to one celebrity who was actually a champion for several years. He admitted that his victory over me was not at all easy and I was invited to join the town's chess club team that was famous for their victories on higher level competition. From that very moment my chess career started as a member of the town chess club and later as an instructor of the chess club at school.
Presented by: Natalya Mann, Mann Enterprises, Russian Translation Service
P.O. Box 5, Willard, MO 65781, USA, PHONE: 417-742-4617
[E-Mail: familyofmann@aol.com]
[HOME WEB SITE URL: http://www.familyofmann.com]