[Home]
[Russian Translation]
[3-way interpreted phone calls]
[Professional Resume]
[Russian Links/Photos]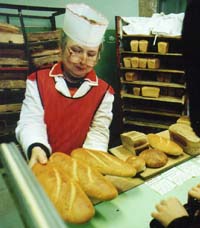 Have you ever eaten Russian bread?
Natalya Mann, native Russian, shares a receipe
for Russian Black Rye Bread
In Russia, a meal is not complete without bread. It is considered to be the most staple food. Bread is considered to be one of the national symbols of Russia and is one of the ingredients for the familiar "Bread and Salt" ceremony.
I lived in Volgograd, Russia for almost 40 years and until I came to the United States in 1996 I had never seen a loaf of pre-sliced bread. My favorite of all the Russian breads is black rye bread. I was not able to find anything similar in the United States. After about 2 years, I adapted a receipe given to me from another Russian friend. This involved converting units from metric to English and adjusting the moisture so it would work in a bread machine. The result was almost identical to the best black rye bread I had in Volgograd. Here is the receipe. Try it and Enjoy. The photo at the left was taken in a Russian bakery but the bread shown is not black rye. If I get a good photo of black rye, I'll show it.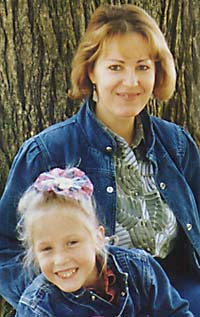 Russian Black Rye Bread :
This recipe was originally intended to be made in a conventional oven but I am not really a bread maker so I adapted it to work in my home bread machine. It works fine. I have eaten this bread that was made in a conventional oven and the results are very similar either way. Adjust the amount of water as noted below.
DRY INGREDIENTS:
onion powder - 3 tbs.
salt - 1/2 tsp.
unsweetened cocoa - 2 tbs.
caraway seed - 1 tbs.
fennel seed - 1 tsp.
wheat bran - 1/2 cup
rye flour - 1 cup
white wheat flout - 3-1/2 cups (use premium quality flour).
yeast - 3 tsp.
LIQUID INGREDIENTS:
fruit juice concentrate (orange) - 2 tbs.
molasses - 3 tbs.
vinegar - 3 tbs.
water - 1-1/2 cups (use 1-1/3 cups of you are using a conventional oven).
To make this recipe in a bread machine, mix the dry ingredients in one bowl and the liquid ingredients in another. Pour the liquid ingredients in the machine first and then pour in the dry ingredients. Select the machine's program for rye or whole wheat bread.
notes on units of measure:
tsp = teaspoon, 1 tsp = 1/6 fl. oz.
tbs = tablespoon, 1 tbs = 1/2 fl. oz.
1 cup = 8 fl. oz.
Presented by: Natalya Mann, Mann Enterprises, Russian Translation Service
P.O. Box 5, Willard, MO 65781, USA, PHONE: 417-742-4617
[E-Mail: familyofmann@aol.com]
[HOME WEB SITE: http://www.familyofmann.com]